WRITING THROUGH GRIEF IS A NEW BLOG POST SERIES. THIS IS MY HONEST RECOUNT OF MY GRIEF AT THE LOSS OF LONNIE WHO PASSED SATURDAY, JANUARY 16, 2021. THOSE OF YOU WHO HAVE READ DEAR UNIVERSE, I GET IT NOW, WILL KNOW SHE'S BEEN THERE FROM THE BEGINNING. THOSE OF YOU WHO KNOW ME PERSONALLY WILL KNOW SHE WAS MY SECOND MOTHER.
___________________________________________________________________
Every time I tell this story it gives people chills, so I'm sharing it here in written form and we'll see if it gives the same effect. It's one of those stories that proves truth is stranger than fiction. It's one of those stories that begs the question of coincidence versus the workings of a higher power.
The funeral home had just wheeled her body to the van in the driveway. They politely covered her with a quilt to protect her from the rain-snow mix. Bruce and I couldn't get over the weather.  Lonnie hated the snow and the grey days of Vermont winters and here, on her last day on Earth, that was exactly what we got. It was okay by me in a lot of ways. I couldn't imagine losing her on a sunny day; it would have ruined sunshine forever.
Bruce retreated down the hall to begin making phone calls, never a man to sit idle long. I remained in the kitchen assisting a hospice nurse with med disposal and gathering any smaller pieces of durable medical equipment that Keene Medical was coming later to remove.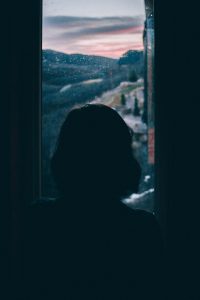 I don't know how we learn to just go into 'business mode.' Is it modeling? Culture? Why did we feel we needed to move so swiftly into the death to-do list? We weren't burying her. We weren't going to be able to have a service or celebration for months. (Another middle finger to COVID.)
We had time to just sit and be heavy, but instead, we moved into action. Perhaps so we didn't have to sit yet with what we knew we would carry for months to come.
A woman of action and taking care of business, this wasn't an unusual behavior to lean on. Any time I've ever felt out of control, I've desperately tried to attain it by doing what is in my control. Cleaning the house or doing the dishes, for example. And over the last months, as we inched our way closer to death's door, I had been living in action.
I couldn't control that Lonnie was going to die, but I could control ensuring her every wish was met and everything she wanted to take care of before she went, was addressed. Every conversation, email, text message, had been about making arrangements. I had been living in a state of the death to-do list longer than I would have liked.
Finally, the hospice nurse gathered her things, including the bag of kitty litter with meds buried inside, gave her final condolences, and left. Bruce and I were alone again after a two-hour flurry of people coming in and taking care of their death to-do items. We sat down at the dining room table, took a deep breath, and stared at each other. He began to raddle off who he had already called and I began to check them off the list from the folder.
One of the rare visits to their house in the last six months, I had helped Lonnie export a list of names and email addresses from her Gmail account. These were the people she wanted to be contacted. Some of them we were to call, some of them she wanted me to write to personally.
I hadn't looked at the list carefully at the time, only able to be in touch with the reality of it all so far. Had I looked more carefully, I would have realized how many people had missing email addresses and phone numbers.
Down toward the bottom of the list was a woman's name I recognized from my childhood. She had lived just a few doors down from Lonnie and her boys were the same age as my sister and me. We had all taken a train trip together to DC when I was six or seven.
Sometime after that trip, this woman and her family moved west. Colorado, perhaps. Over the years, Lonnie and she had kept in touch intermittently. I couldn't remember the last time Lonnie had mentioned her but I knew the name instantly.
"We don't have an email for Debbie Aroosta," I said.
"Debbie?"
"You know, the friend from down the street. She moved with her boys."
"Oh... I don't know that Lonnie has talked to her in years," he said and sipped on a now cold black coffee.
"Maybe it's in her address book," I suggested and retrieved it from the drawer to my left.
Debbie was listed multiple times, each address crossed out. Each phone number crossed out, too. I asked Lonnie's son through text if he knew, and he suggested looking on Facebook or texting one of the phone numbers that was listed.  I didn't have the energy to go through all those hoops and decided that in that moment, I could move on to one of the people I did have information for.
Bruce stood, ready to retreat down the hall again to make more calls when I opened up my laptop and pulled up my email. There was a contact form sitting at the top. It was a Saturday and it was rare that I ever get new contact form submissions from my author website.
There was Debbie Aroosta's name under the name field on the form. My whole body shivered. What on Earth. 
"Bruce, you won't believe this," I said. "Debbie just contacted me through email."
He stared at me. "You're kidding."
I shook my head no and opened the email and began to read out loud. "Hi Alyssa, I don't know if you remember me, but I used to know you when you were a little girl. I lived down the street from Lonnie and I just finished reading Dear Universe and wanted to be in touch..."
"That's wild," he said.
"If that isn't a sign that something larger than all of us is at work then I don't know what is," I remarked.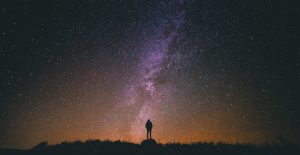 He shook his head in disbelief and then continued down the hall.
How was it that in the very moment I was searching to be in touch with this woman who I hadn't spoken to since youth, who Lonnie hadn't spoken to in years, and she reached out? Stranger than that, when I looked at the time stamp, she had submitted that form this morning a little after 11. Lonnie had taken her last breath moments later.
I didn't respond right away as the contact form was a great deal longer than what I had read out loud. Debbie wrote mostly about my book and her own want to capture her parent's stories into a memoir to leave behind for the family. I wanted to take the right amount of time and space to respond and not only share the news of Lonnie but write back about her writing needs. I held off on a response.
How did she come to know about my book? I wondered.
In the days that followed, these types of things were happening constantly, but this time to Bruce. He would think of someone he needed to contact to let them know and they would appear in his texts or they would call him out of the blue.
"Somebody somewhere is watching," I said, believing more and more these were not coincidences.
When I finally sat down to write Debbie back, I asked her how she came to know about my book. She responded shortly after receiving my email. I saw Lonnie had posted it on Facebook and was raving about it. She was so proud of you. I went and bought it immediately. 
So, it was Lonnie's doing. Maybe not the timing, but whether Lonnie knew it or not, she had done just enough for Debbie to pick up my book, and to know how to reach out from there. If you want to get on the phone sometime, I would love to talk and share with you what Lonnie's friendship has meant to me over the years, she had also offered.
Maybe it's time to go ahead and do that. That may be a death to-do that isn't so painstaking.