WRITING THROUGH GRIEF IS A NEW BLOG POST SERIES. THIS IS MY HONEST RECOUNT OF MY GRIEF AT THE LOSS OF LONNIE WHO PASSED SATURDAY, JANUARY 16, 2021. THOSE OF YOU WHO HAVE READ DEAR UNIVERSE, I GET IT NOW, WILL KNOW SHE'S BEEN THERE FROM THE BEGINNING. THOSE OF YOU WHO KNOW ME PERSONALLY WILL KNOW SHE WAS MY SECOND MOTHER.
_________________________________________
A client Voxered me the other day to tell me she wanted to focus all of her February newsletters on the idea of home. She's in the process of renaming/rebranding a membership group and thinking about what she wants her community to feel. She's also thinking about what she wants out of this year -- both in business and in life. It all comes down to creating and existing in a space that feels like home.
What feels like home isn't universal. Few things are, really, which I come to learn more and more all the time.
We each define what home means to us. Yet, I would imagine there are some common characteristics that would appear on most of our lists. Belonging. Acceptance. Safety. Love.
As soon as I heard my client's theme for the month, I thought of Lonnie instantly. It's hard not to right now. She's on my mind all of the time as I navigate these early days of grief. No matter what it is that is going on, somehow I find my mind has a way to connect it back to her.
But this particular connection isn't a stretch.
Not at all.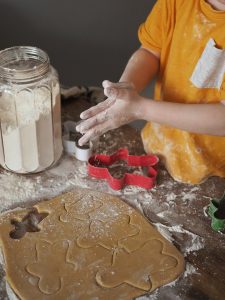 Lonnie's legacy (from my point of view) is the number of families whose children were blessed to be cared for while their parents worked. She was a daycare provider for 30+ years. Her business was loving on children and making her home feel like theirs. Something she did without effort. Or at least it always felt that way.
That idealistic idea of home, you know, the one you see in feel-good-movies is warmth, candles lit, smells of baked goods, family photos, cozy blankets...
This was her home. It was a reality.
It was warm not just in the welcoming nature but also in temperature which gave you that cozy feeling as soon as you entered.
She often would have candles lit or the diffuser going which gave the air the scent of whatever she was burning. Thieves was the most recent favorite she would diffuse. (Though my favorite was also the smell of cinnamon or pine during the holidays.)
Baking was a frequently enjoyed activity with the kids she cared for. I delighted in baking together. She gave me my own cotton, floral apron with two tiny buttons and a small pocket. I would slide a kitchen chair up to the counter, and stand barefooted on the seat while I got to dig my hands into the flour. My favorite was making peanut butter balls at Christmas time because I got to put my bare hands in the bowl and squeeze it all through my fingers making sure the softened butter blended in with the peanut butter and sugar.
The fridge was always covered with photos of kids, the walls were covered with framed pictures and paintings, handmade crafts she had created herself, sentimental items from childhood or her family.
And quilts draped the backs of couches and chairs. Teddy bears lined the headboard-shelves in the master bedroom where a couple of lucky kids such as myself got to nap in the warm waterbed, beneath yet another quilt, and with the teddy bears of our choice. I remember when I would wake, she would come in and lay down with me for a few precious after-nap snuggles.  This was the joy of not yet being in school yet and not having to share her with many others.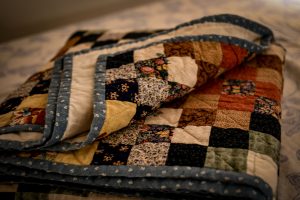 Well beyond the napping years and well into the afterschool ones, Lonnie's house felt like home. Rushing through the door after getting off the bus, tossing coats and bags onto the floor, helping myself to snacks in the kitchen, setting down to the dining room table to do my homework across the sticky, jelly residue from that day's lunch with the littles that were there while I was at school.
The same dining room table I sat at every day of her last week on this Earth.
Well beyond the school years, and the college years, and now into my adult ones Lonnie's feels like home. Because no matter the passage of time, no matter how frequent or infrequent the visits, no matter how I aged or she did, I was welcomed, I was loved, I was safe, and I always, always belonged. Through every celebration, failure, milestone, and mistake, her door was always open as were her arms.
You never walked in without hugging first, then a hello, and then the visit itself. You never left without her standing at the window and waving goodbye.
I grew up in Lonnie's house as much as I grew up in my own. I felt at home at Lonnie's house as much as I did my own. Some days, even more so.
And as I think about my client wanting to make her community a home ...
As I think about Lonnie and how she made her home mine and so many others ...
And as I think about how I would define home, for my self, for my business, for my son, what I want is a place where:
all are welcome;
hugs happen first;
anything can be said (and the more sharing the better);
when people leave, they feel seen, heard, and loved;
and after they've gone, they can't wait to come back again.